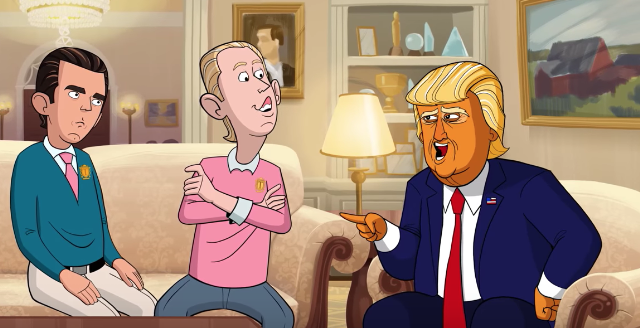 The first trailer for Our Cartoon President hilariously depicts Colbert's Donald Trump caricature as he navigates hard presidential decisions, romance, and family life.
Colbert has been enjoying the surge of interest that the frenetic Trump presidency has brought to late night comedy.
The cartoon Trump character became a running feature on "The Late Show with Stephen Colbert" during the 2016 presidential election, making a number of return trips. In 2017 "Late Show" has passed the less-topical "The Tonight Show starring Jimmy Fallon" in the ratings.
"Our Cartoon President" is executive produced by Colbert, Fried and Chris Licht. However, it will be available for an early preview (across Showtime's various platforms) on Sunday, Jan. 28, ahead of the State of the Union address.
While cable news buzzes over "Fire and Fury", Michael Wolff's fly-on-the-wall look at the Trump White House, there is nothing in the tome that has surprised Stephen Colbert.
"There is nothing in the book that's not in our show, and we just guessed", he said.
But Colbert said he didn't want to describe Trump's actions as a gift to comedians.
"I love my country more than I love a good joke", Stephen Colbert says. But he's also going to take shots at those in his administration, including White House press secretary Sarah Huckabee Sanders.
It borders on headache inducing to watch and listen to Colbert in full flow, and he only slows down a little to explain that when he imitates Trump on his nightly CBS show, he's not meaning to mimic Trump himself.
"So does Trump", Colbert responded.