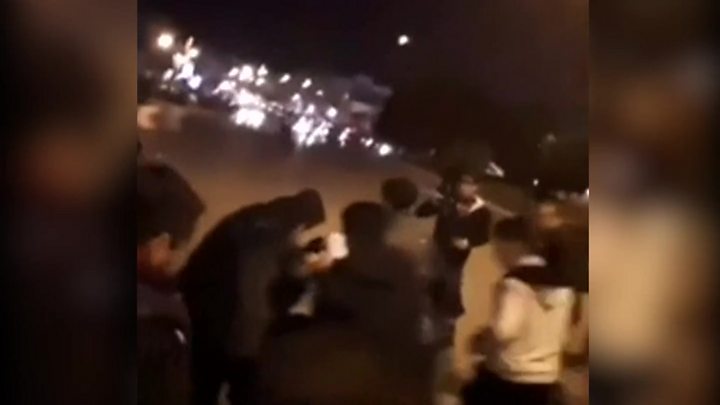 People take part in pro-government rallies in Iran on January 3. As of Jan.1, six people were dead in the small city of Tuyserkan, two in the city of Dorud, two in the southwestern city of Izeh, and two in Lorestan province.
The anti-regime protests in Iran enters in its second week.
It remains hard for journalists to piece together what's happening beyond the capital, especially as the government has blocked both the photo-sharing app Instagram and the messaging app Telegram, which protesters have used to organize their demonstrations and share footage.
At first, they were protesting against Iran's dire economic downturn and the skyrocketing prices of basic necessities like eggs and poultry.
In a sign that Iran is taking the protests more seriously, Supreme Leader Ayatollah Ali Khamenei accused what he called enemies of the Islamic Republic on Tuesday of stirring unrest.
Although there are a variety of demands from different classes of society, videos posted on social media suggest young, working class people make up the biggest numbers. Rouhani promised greater social and political openness, as well as a revived economy after years of worldwide sanctions, but he has been unable to deliver much change in a nation where the ruling clerics must approve all major decisions.
Unlike the pro-reform demonstrations of 2009, the latest protests appear more spontaneous and don't seem to be orchestrated by leaders who can be identified and rounded up by the authorities.
Nine people were killed in Isfahan province during protests on Monday night, including two members of the security forces, state TV said.
Activists came out in full force after pro-government demonstrators rallied on Saturday.
The unrest has remained focused on provincial towns and cities, with only sporadic protests reported in Tehran yesterday evening. Police disperse protesters with water cannons and make some arrests.
Meanwhile, the U.S. State Department urged Iran to stop blocking online social media traffic in the country and said its citizens could set up virtual private networks to circumvent censorship. He has called the protests an "opportunity, not a threat", recognised economic discontent and said people had a right to take the streets. Hundreds have been arrested; the death toll is climbing.
On Sunday, Telegram CEO Pavel Durov said on Twitter that authorities had cut off access to the app.
"When there is a protest, you can be sure other countries will take advantage of it and interfere", 30-year-old architectural engineer Mehdi Rahmani told AFP.
In moments of crisis, Iran's government may rightly fear for its existence and unleash its fury against its own citizens.
"The European position is certainly less advantageous in terms of public opinion, but it is wiser", said Francois Nicoullaud, a former French ambassador to Iran.
The demonstrations spread to other government strongholds, including Qom, home to some of the most important academic institutions for Shia scholarship.
Even if Democrats manage to win both houses of Congress in 2018 and Trump is impeached, nothing will change until the electorate installs a democratic president and Congress. This will more likely cause more people to become disaffected with the regime. Iran, with its current regime, is a danger not just to its long-suffering people, but to everyone. "The world is watching!"
Iranian officials have downplayed the strength of the protests.
Suppression of freedoms, and human rights violations have escalated, according to Amnesty International and other human rights groups.
Iranian Foreign Minister Javad Zarif responded to Trump's criticism by pointing out that America's Gulf Arab allies have restrictive political systems with no rights to vote or protests. All of the money that President Obama so foolishly gave them went into terrorism and into their "pockets".
Trump's United Nations envoy, Ambassador Nikki Haley, has called for an emergency Security Council meeting on Iran, saying the United Nations needed to speak out in support of the protesters.
Rouhani pushed back on Trump's remarks, saying the United States president had no right to sympathize with protesters because he "called the Iranian nation terrorists a few months ago".