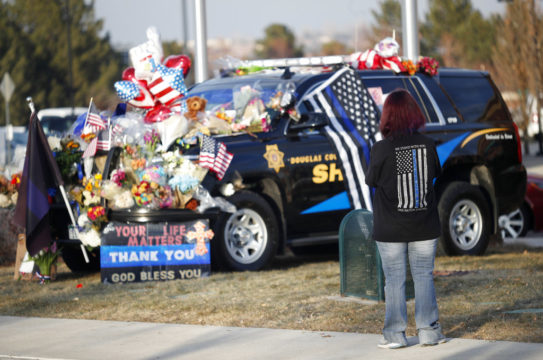 A sheriff's deputy was killed and four others were injured in a shooting Sunday morning after officers responded to a domestic disturbance at an apartment complex in suburban Denver.
The office reported on Twitter around 6:45 a.m. that one deputy was shot.
Four other deputies and two civilians were shot by the suspect, who was "no longer a threat", the sheriff's office said on its Twitter account.
About an hour later, the agency tweeted an update that multiple deputies were down, but could not offer an update on their conditions.
A SWAT team responded to the scene, according to a spokeswoman for the Sheriff's office, and a major highway south of the city was shut down. They say the suspect was also shot.
As the incident was still unfolding, police asked people to avoid the area and for those nearby to shelter in place.
The DCSO said earlier that citizens should avoid the area, while residents were advised to shelter in place and avoid windows and exterior walls.
A reporter from Scripps' Denver affiliate arrived on scene and reported hearing gunshots ring out in the distance. Two ambulances were also in the area.
Parker Police Department, Lone Tree Police, Castle Rock Police and Colorado State Patrol are involved in the incident.