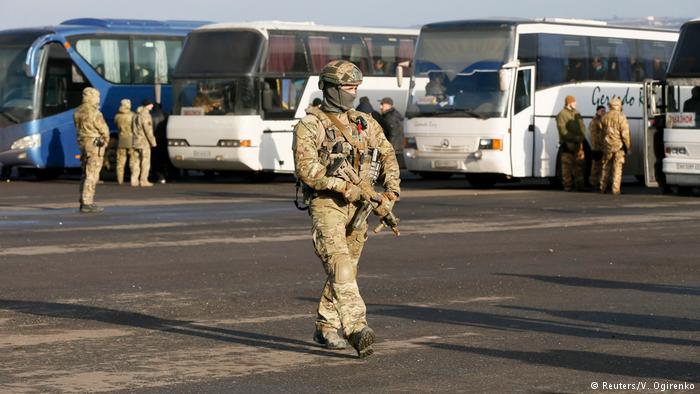 Ukraine handed over 246 prisoners in exchange for 74 people who had been taken captive by separatist forces.
Among those released were journalists, bloggers and activists who had been accused of spying or treason. Twenty people who had been held in Ukrainian government custody refused to return to pro-Russia breakaway regions, Kiev said.
During Russian President Vladimir Putin's annual news conference of December 14, he had called on Ukrainian President Petro Poroshenko to complete a prisoner exchange in war-ravaged eastern Ukraine by New Year's Eve.
In order to unlock situation, Orthodox Church played an active role and Patriarch Cyril became personally involved, meeting with rebel leaders Zajárchenko and Leonid Pasechnik, new head of so-called People's Republic of Lugansk, or area In power of Russian rebels. The Kremlin has also continued to aid pro-Russia fighters in the eastern part of Ukraine, where ties to Russia are stronger.Nauert's statement also said Tillerson and Russian Foreign Minister Sergey Lavrov agreed to continue to seek a diplomatic solution to the threat posed by North Korea's nuclear weapons program and to support negotiations toward a peaceful end to the ongoing civil war in Syria, where the US and Russia have supported opposing sides.
More than 10,000 people have been killed in fighting in the Donetsk and Luhansk regions.
The exact number of prisoners exchanged is uncertain. But a recent escalation in hostilities has quashed hopes of an imminent end to the conflict, which is now the longest in Europe since the second world war.
More than 10,000 people have been killed in the conflict and casualties are still reported nearly daily despite a ceasefire that froze the frontlines in place since 2015.
Ukrainian media said later that Kiev has transferred a total of 238 people to the rebel-held area and 165 of them went to Donetsk.
The previous day, Poroshenko met prisoners' families, describing the exchange as a "symbol of our struggle and victory".