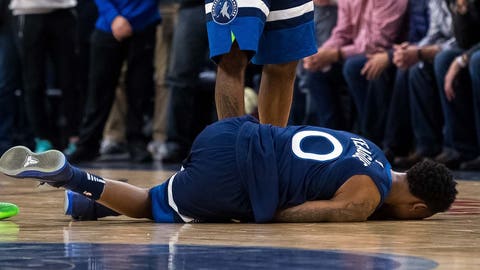 Unfortunately for the Minnesota Timberwolves, though, their starting point guard could still be sidelined for a significant chunk of the schedule.
Minnesota Timberwolves point guard Jeff Teague is out indefinitely with a Grade 1 MCL sprain in his left knee, the team announced Thursday afternoon. He immediately had an MRI done the following day which fortunately revealed no structural damage to it.
Teague was injured in the fourth quarter of Wednesday night's game against the Denver Nuggets. Gary Harris accidentally rolled into the side of Teague and undercut him, causing the injury. Durability has been one of his calling cards, with the 29-year-old point guard not missing more than 12 games in any season in his career. Teague had 11 points and 10 assists before departing, with Tyus Jones taking his place in the lineup. He was averaging 4.0 steals in his previous three starts, so the steals weren't a huge surprise.
Teague is averaging 13 points, 7 assists, and shooting 44 percent from the field in his first season with the wolves.
"As always, whatever the team needs me to do, I'll be ready to do so", Jones said after Wednesday's game.
Aaron Brooks could assume Jones' reserve role.