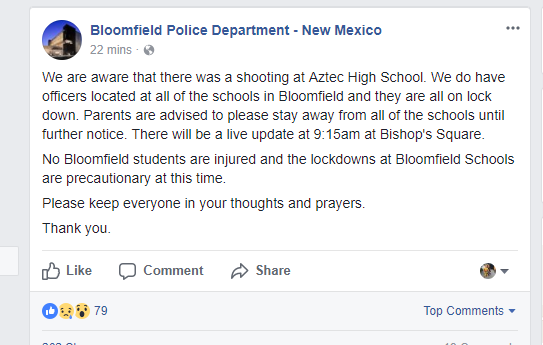 Authorities say two students and a gunman are dead after a shooting at Aztec High School in northwestern New Mexico. Two students were wounded in a shooting at a Roswell middle school in 2014.
There were no other injuries reported, state police said.
According to the Farmington Daily Times, neither the victims nor the shooter have been identified.
Lt. Kyle Lincoln with the San Juan County Sheriff's Office told CBS affiliate KRQE that law enforcement official are clearing the building and searching the school.
Aztec High School is a public high school in Aztec, New Mexico. Nearby schools were briefly locked down during the incident.
This story will be updated as more information about the shooting becomes available. He says the shooter also was dead but didn't say if the suspect was among the three. Parents are able to pick up their children at 516 and Mesa Verde, after they are checked in and accounted for.
Aztec High School is in the Four Corners region and is near the Navajo Nation, an expansive native American territory.
Sheriff Ken Christesen confirms the shooting at Aztec High School on Thursday morning. It was also unclear from the report whether the three were injured or killed.