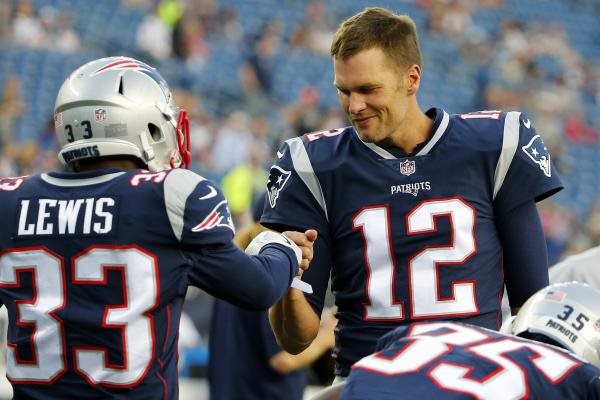 "It shows you a true warrior".
The future Hall of Fame quarterback walked off the field.
The Patriots find themselves in a rock fight at New Era Stadium in Orchard Park, New York, where they hold a 9-3 lead at the half over the Buffalo Bills.
That was, of course, until today's game, when Tom Brady missed a wide open receiver down the field and got the scorn of offensive coordinator Josh McDaniels for missing out on a big play.
The New England Patriots pulled away in the third quarter with two touchdowns from Rex Burkhead, which all but sealed victory the way the Buffalo Bills' offense was playing.
New England (10-2) won its 14th consecutive road game - the second-longest streak in National Football League history - and reached double-digits in victories for the 15th consecutive season.
At 6-5, the Bills have been a surprise team. The fifth-round draft pick proved he wasn't ready two weeks ago, throwing five interceptions in the first half of a 54-24 loss at the Los Angeles Chargers.
As Brady and McDaniels worked through the issues, the defense gave them plenty of cushion to figure things out (it was 9-3 at the half). Gilmore spent his first five seasons in Buffalo before signing with the Patriots in free agency this past off-season.
Bills quarterback Tyrod Taylor was carted to the locker room with a knee injury early in the fourth quarter and did not return. Burkhead finished a 70-yard drive with a 1-yard touchdown and found the end zone on a 14-yard run up the middle to cap a 78-yard march.
The Bills introduced some trickery in a bid to spark their offence by using third-string quarterback Joe Webb in several wildcat formations.
LeSean McCoy had 93 of the Bills' 183 rushing yards.
One positive from the first half has been the play of former Bill Eric Lee, who seems to be flourishing in his new haunts. Set up by a 27-yard precision pass from Brady to Danny Amendola on the sideline the Patriots would put the first points of the day on the board. The Patriots signed Lee from the Bills' practice squad on November 21.