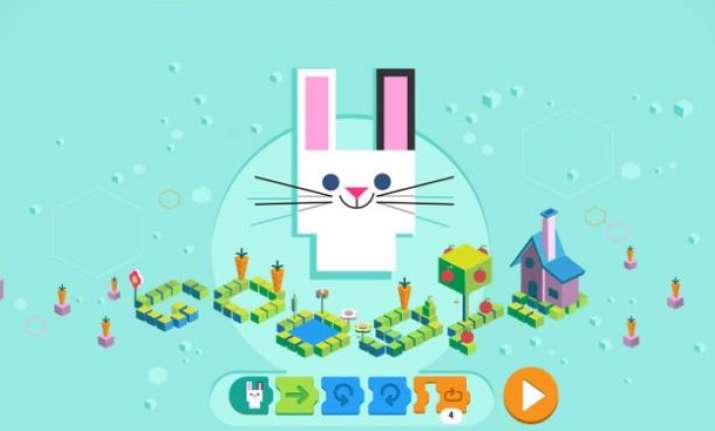 It's been 50 years since children's programming language was launched and Google marked the day in its unique, inimitable style - the search engine giant introduced its first-ever coding doodle with "Coding for Carrots".
Google is also encouraging kids big and small to create their own Google logo through a Scratch Hour of Code project.
The game is based on the Scratch programming language for kids and see players snap together a variety of blocks to make the rabbit character move around.
Kids programming on computers must have sounded futuristic and impractical in the 1960's when Logo was first created.
The first coding language for kids, Logo, was developed and designed by Seymour Papert and researchers at MIT in the 1960s, long before personal computers were introduced.
The Coding for Carrots game in today's Google Doodle captures the spirit of the Logo programming language, in that Logo taught kids coding by enabling to program a turtle's movements.
MIT's Champika Fernando said in Google's post about kids coding that Scratch is "designed to be less intimidating than typical programming languages, but just as powerful and expressive". Those early experiences not only influenced my career path, but provided me with new ways to express my ideas and influence the world around me.
Google Doodles have done a great many things over the years, from memorialising famous figures from history, to celebrating special dates, and that time everyone got to play Pac-Man at work. We believe all kids should have the opportunity to develop their confidence with the technology that surrounds us. "It makes me happy to think of all of the nine-year-olds who will get their first coding experience playing with today's Doodle", says Fernando.
They built a Doodle to let anyone code in the Scratch programming language - similar to the LOGO language they taught many kids back in the 80s and 90s.
Coding was added to the UK's National Curriculum in 2014 and we are increasingly seeing kids leave their parents speechless with the new words and skills that they are learning.