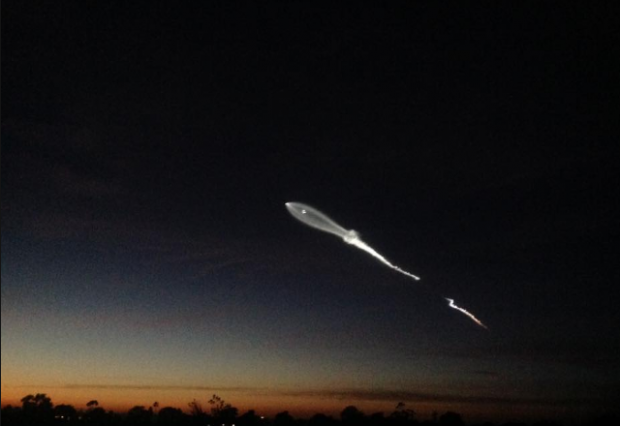 This video of an apparent rocket launch on the evening of December 22, 2017, was shared with the Ventura County Star by Alex Dearana-Lemich.
SpaceX's Falcon 9 rocket will deliver 10 satellites to low-Earth orbit for Iridium, a company focused on data satellite communications, according to SpaceX.
Calls came in to TV stations as far afield as San Diego, more than 200 miles south of the launch site. Many believed the plume to be an alien or UFO of some sort and reportedly, many cars stopped on freeways to take photographs and videos of this weird sight. People as far away as Los Angeles and beyond stopped to see the rocket launch into the sky. All of the satellites were successfully deployed. This time, the rocket was allowed to plunge into the water.
This is the fourth Iridium mission consisting of 10 satellites on a SpaceX Falcon 9 rocket.
The Falcon 9 SpaceX rocket as seen over Menifee.
A mysterious white light that appeared over Southern California skies during the Friday evening rush hour, prompting curiosity and questions from the many onlookers who observed it, was from a SpaceX rocket launch, authorities confirmed. SpaceX has made four launches and expects to make several more to complete the job by mid-2018. The Falcon 9 booster lifted off from coastal Vandenberg AFB shortly before 5:30 p.m. PST.
The satellites also carry payloads for global real-time aircraft tracking and a ship-tracking service.
The 10 satellites are part of Iridium's NEXT system, which will ultimately include 81 satellites.