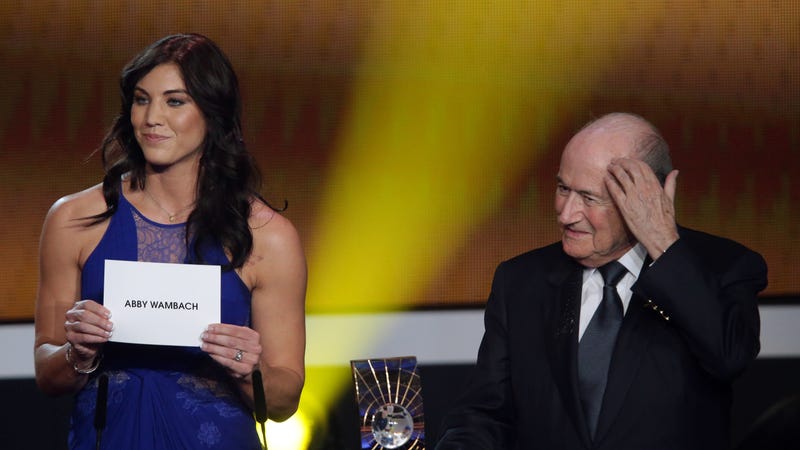 USA women's national team goalkeeper Hope Solo says then-FIFA president Sepp Blatter sexually assaulted her in 2013.
"From inappropriate comments, unwanted advances and grabs of the ass to coaches and [general managers] and even press officers speaking about players" "tits" and physical appearance, sexual harassment is rampant in the sports world.
In the interview with Portuguese newspaper Expresso, Solo claimed that the sexual assault had happened just moments before the pair went on stage together to present the award. She then revealed that Sepp Blatter, then the president of world soccer's governing body, groped her in 2013 as they were about to present the women's player of the year award at the Ballon d'Or gala.
United States goalkeeper Hope Solo accused Sepp Blatter of sexual harassment on Friday, yet another alleged sexual misconduct by a man in a position of power that's been made public in recent weeks.
Read the full story at USA Today.
Solo, a two-time Olympic gold medallist, says the issue is "rampant" in women's football. I've seen it among players in the locker room.
"I had some bad experiences with players who are still on the team. I don't know why more players don't speak out".
A Blatter spokesperson denied the incident took place, telling The Guardian, "This allegation is ridiculous". In other cases, for instance, I've told my teammates: "Don't ever f***ing touch me!" She had to pull herself together quickly to give the award to Wambach.
The Guardian contacted the player to expand on what had happened and she told them: "I was in shock and completely thrown off".
Blatter was suspended from office and banned from soccer for six years following allegations of a widespread corruption scandal that came to light in 2015.
She said she's disappointed in her colleagues who have been victims but who have not spoken out about their own experiences.
In an Instagram post, she said: 'For the past few days, I have been thinking about all the uncomfortable situations myself and/or my teammates have experienced throughout the years with trainers, doctors, coaches, executives and even teammates'.