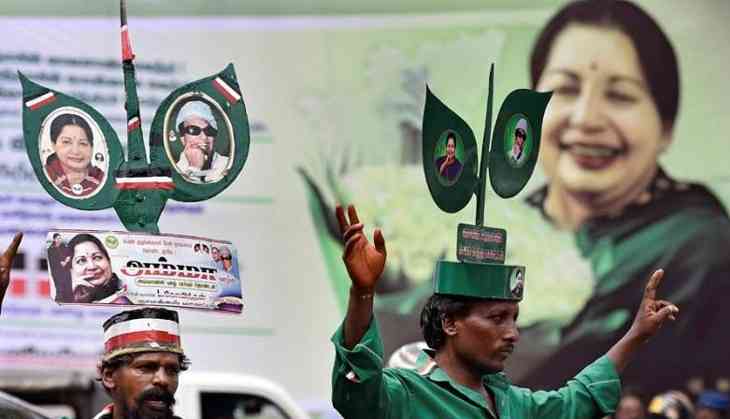 In a general council meeting on September 12, the merged factions of EPS and OPS had passed a resolution stating that the AIADMK would be a unified faction and shall retrieve the two leaves symbol and the AIADMK name.
However, the camp led by EPS and OPS claimed that they enjoyed majority in the party's legislative and organisational wings and added that the other group was trying to drag the proceedings unnecessarily.
While the EPS-OPS faction had the support of 34 Lok Sabha members, eight Rajya Sabha members, 111 MLAs in Tamil Nadu and four MLAs in Puducherry, the Sasikala faction claimed the support of three members each of the Lok Sabha and Rajya Sabha and 20 MLAs in Tamil Nadu (18 of whom stood disqualified on grounds of defection).
Palaniswami said party cadres and people were happy about the outcome to the poll symbol row, and added that the ruling showed that only "dharma will win".
The two factions also started sidelining Sasikala lead AIADMK group and her nephew T.T.V. Dinakaran.
"Waiting for the hard copy of the order but have got information from the EC orally that the two leaves symbol has been allotted to us", Maitreyan said.
However, Dhinakaran criticized it, saying that the "EC did not function in an independent manner".
"We'll go to Supreme Court and retrieve the symbol", he said. "EC has acted as per the wishes of the central govt". "And it can breathe a little easy since there will be only one AIADMK this time in the seat since Dhinakaran would enter the fray only as an independent or as nominee of a smaller party", political commentator Gnani Sankaran told DC.
The EPS-OPS and the Sasikala Natarajan-TTV Dhinakaran factions had been fighting to win back the two-leaves symbol of the AIADMK, which was frozen following the split in the party post the death of J Jayalalithaa previous year.
The allotment of poll symbol comes in the backdrop of the Madras High Court ruling that elections to the RK Nagar constituency, lying vacant since late party chief J Jayalalithaa's death, must be conducted before the end of the year. The bypoll was later rescinded.