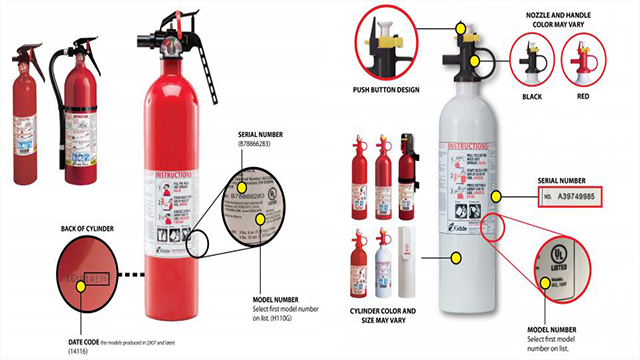 There have been almost 400 reports of extinguishers malfunctioning, resulting in 16 injuries and one death.
Almost 40 million fire extinguishers in the U.S. and Canada have been recalled, according to the U.S. Consumer Product Safety Commission (CPSC). The nozzle can also come off and cause an impact hazard.
Roughly 37.8 million potentially defective extinguishers are now in circulation across the country, according to the recall notice. It also includes models that were previously recalled in March 2009 and February 2015.
Canada has experienced a record-breaking wildfire season this year, and now it seems even having a fire extinguisher handy may not be enough for residents living in wildfire-prone areas.
Extinguishers have been sold at several stores including The Home Deport, Walmart and Amazon. Kidde settled with the family.
The problem is the plastic handle on 134 Kidde models. Sixteen of those incidents resulted in injuries, including burns and smoke inhalation, the CPSC said.
Check your pantry, under the sink, in the garage, or anywhere you have stored a fire extinguisher after one company has recalled more than 37 million devices. Or you can call the company at (855) 271-0773.
A statement from Kidde reads in part: "customer safety is our first priority".
Ann Marie Buerkle, acting chairman of the Consumer Product Safety Commission, told CNN the agency is using print and radio ads and social media to spread the word about the recall.
Kidde, based in Mebane, NC, is offering replacements, not refunds.