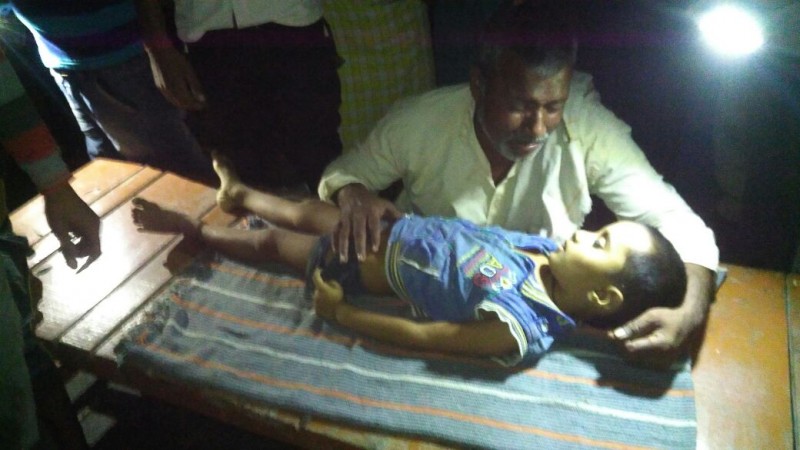 He was allegedly hit by a vehicle which was part of the convoy of minister Om Prakash Rajbhar.
Vishwanath, father of the victim, alleged that after hitting the boy, "the minister sped away".
Om Prakash Rajbhar, however, has claimed he was 25 kms away, in a different auto, when the incident happened.
The child fell after he was hit by the vehicle.
However the Minister maintained that the boy was not hit by any vehicle belonging to his motorcade and further said that his vehicle had covered over 25 km from the spot when the accident happened.
The eye-witnesses and the boy's family claimed that the child was knocked down by a vehicle from the minister's convoy.
Angered locals and relatives of the child staged a protest in the middle of the road after the vehicle did not stop even after hitting the child. A probe has been ordered into the incident.
"Villagers told police that besides minister's Innova, two police jeeps were the only vehicles on the stretch when the accident took place", Singh said. They alleged that the police tried to forcibly remove the boy's body from the road. The decorated vehicle hit Shiva.
Uttar Pradesh Chief Minister Yogi Adityanath has ordered a report on the alleged incident where a minister's auto crushed a five-year-old to death. "I am extremely sad over death of the child", SBSP general secretary Shashi Pratap Singh quoted the minister as saying.
In a shocking incident from the Gonda district of Uttar Pradesh, a 5-year-old child was killed after being hit by a UP minister's cavalcade.