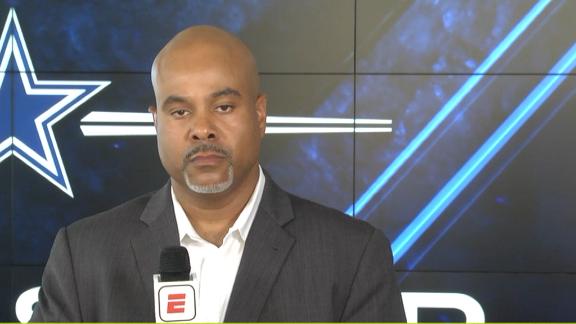 Rap pioneer Pete Rock went to Instagram Tuesday (October 10) with a five-part clip of Sharpe unloading emotions onto Jones.
In addition, most agree that kneeling during the anthem doesn't meet Section 7 of the National Labor Relations Act, which addresses organized activities related to terms and conditions about employment, wages and working conditions.
"The word that comes to mind, and I don't care who doesn't like me using it, is "plantation", he said.
"To me, it's an owner mentality", Common told TMZ Sports. "So it didn't really affect me but hopefully it didn't affect anybody else on the team".
Dallas Cowboys owner Jerry Jones, who turns 75 Friday, was born in Inglewood. This set off a firestorm that engulfed ESPN's Jemele Hill again, and she was suspended two weeks by the network for suggesting that fans could target advertisers in an attempt to support the players' protest.
Given that the Cowboys had a team meeting over their owners' comments, and the anonymous player venting to ESPN in an episode reminiscent of the Trump administration (who Jerry Jones donated to), this looks like an issue that will not go away any time soon-and if elite Cowboys players like Dez Bryant or Dak Prescott kneel, this longtime National Football League fan is willing to bet a significant amount of money that Jones will not follow through on his threat and bench them. "So I think the likelihood on the basis of that charge alone, that this gets much steam, is probably unlikely". You can't say shit on @ESPN without outrage, can't say shit on social media without outrage, what the hell y'all want her to do be a mime???? Are you willing to pay the price??? I know in the modern age people think workers shouldn't have rights, but they still do. "We're going to respect the flag, and I'm going to create the perception of it".
"If the government pays for the patriotic display and the firing is a result of the behavior being deemed insufficiently patriotic, it is conceivable that that a claim could then be articulated", said Floyd Abrams, a First Amendment attorney in NY. Now here's the thing I'm quoting Harry Truman, Theodore Roosevelt, and George Orwell in no particular order but I'm taking the credit because it's Columbus Day and this day is all about stealing things and taking the credit for it so let me give you one more courtesy of George Washington "If freedom of speech is taken away, then dumb and silent we may be led, like sheep to the slaughter".
It is worth noting that Jones never said that any players would be fired.