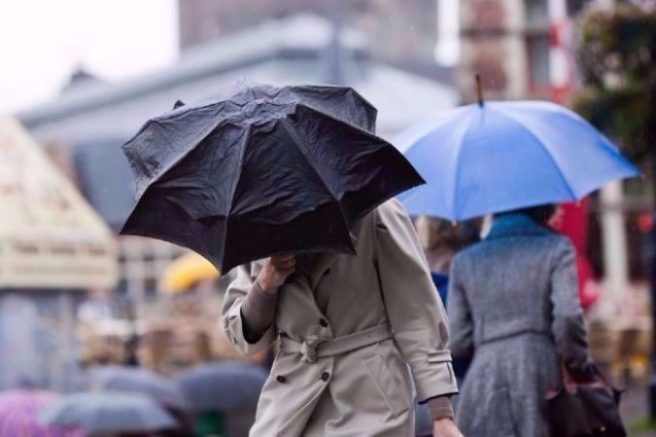 It will track eastwards across central Britain and the centre of the storm is forecast to exit from north-eastern England into the North Sea at around 10pm on Saturday.
Much of the country will see between 15mm and 25mm of rainfall, with isolated areas receiving 60mm.
Winds of 60mph have struck the Welsh coast and gusts are set to reach speeds of 70mph on Saturday.
Warnings are in place that more trees may come down in the winds and people have been urged to take care on the roads.
Also known as explosive cyclogenesis, the weather bomb creates a jet stream of strong winds high up in the atmosphere which interact with the low pressure system.
The strongest winds will hit the south west of Ireland and Wales early on Saturday morning, before heading east across the south of England.
Met Eireann has warned of gale force winds continuing across the west and south of the country today as the storm moves across the country.
A weather warning is out for this weekend and the Environment Agency has issued a string of flood alerts.
"Some coastal flooding is possible along the south and south-west coasts of England, especially around high tide, with large waves, spray and some over-topping of coastal defences".
According to the Met office, Alison Baptiste, National flood duty manager for the Environment Agency, said: "We urge people to stay safe along the coast and warn against putting yourself in unnecessary danger by taking "storm selfies" or driving through flood water-just 30cm is enough to move your vehicle". The gusts could bring more power cuts after Ophelia left 50,000 people in the United Kingdom and 170,000 in Ireland without power, and could also cause flooding and large waves.
A spokesman said: "Fallen trees and other debris may temporarily block railway lines and damage overhead wires".
Despite Storm Aileen hitting the United Kingdom last month, and Ophelia earlier this week, Brian is the second, rather than third named storm of the year, as Ophelia was named as a hurricane.