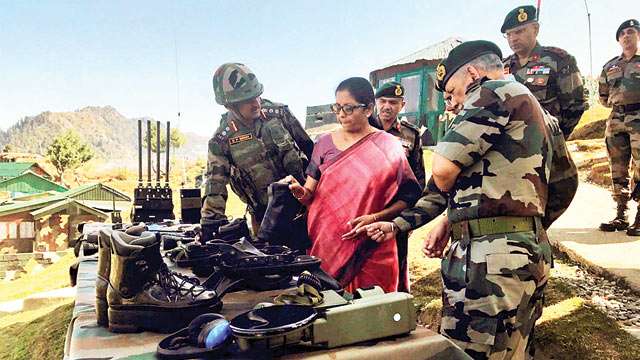 While the top brass IAF discussed the loss of life during peacetime operations, defence minister told them that the powers given to the service chiefs should be "fully utilised" in achieving required capabilities of the forces.
The "Chicken Neck" is strategically important for both China and India as it cuts through Bangladesh to the south and west and China to the north.
Sitharaman then asked the soldier "What would you say in Chinese?"
The friendly conversation comes days after the standoff between the Indian and Chinese troops at Doklam, which lasted for almost 70 days before the two sides entered into a "disengagement agreement".
Indian Defence Minister Nirmala Sitharaman waves to Chinese citizens and troops (unseen) across the border at the Nathhu La outpost. When the Chinese Commander introduces his soldiers to the Defense Minister, she greeted the Chinese soldiers as a greeting to Indian soldiers according to Indian tradition.
The defense minister's visit to the border area comes more than a month since Indian and Chinese troops disengaged after almost a 70-day standoff at Dokalam.
India's Economic Times newspaper reported that Sitharaman's trip on Saturday was the first high-level visit to the area following the 73-day stand-off between Indian and Chinese troops at Doklam, which ended on August 28 following a mutual agreement between the two countries.
Some of Indian soldiers can also be seen clicking photographs of Nirmala Sitharaman's interaction with Chinese troopers while one is seen holding a gift wrapper box.
The right-leaning China daily said some Indian nationalists "over-estimate India's strength and rights, assuming New Delhi can bark orders across the border at Beijing".
Sitharaman was accorded a guard of honor on her arrival at Nathu La.
Army officials briefed the Defence Minister on security preparedness along the Indo-China border in the Sikkim sector.
However, her scheduled aerial survey of Doklam, an area where Indian and Chinese troops indulged in an over two-month-long standoff, got cancelled due to bad weather.
The trouble started in June when India sent troops to stop China building a road in the Doklam area, which is remote, uninhabited territory claimed by both China and Bhutan.