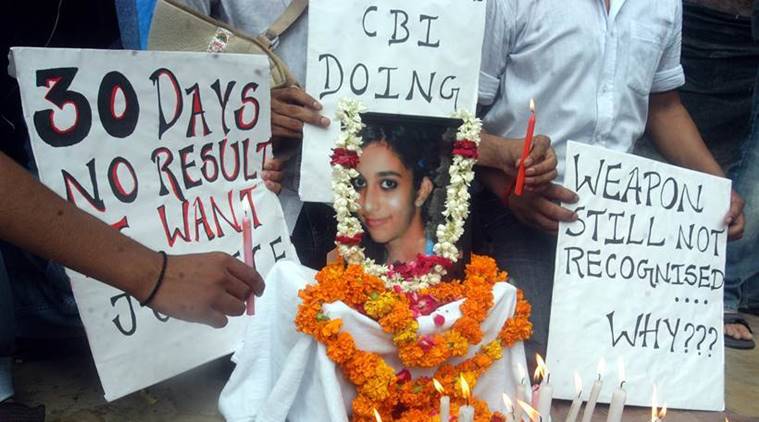 The Allahabad High Court, in its verdict on Thursday acquitting the dentist-couple Rajesh and Nupur Talwar in the 2008 murder of their daughter Aarushi and domestic help Hemraj, dismissed the trial court's contention that since nobody else but the parents were present in the house on the night of the killings, only they were likely to have committed the crime.
Justice BK Narayana and justice AK Mishra gave their verdict in September in response to the appeal which was filed by parents of Aarushi, Nupur and Rajesh Talwar, who have been sentenced to life imprisonment by the CBI court of Ghaziabad. This decision by the Allahabad HC was a big one as it accepted the plea from Rajesh and Nupur Talwar who were convicted of the murder of their own daughter earlier.
Tanveer Ahmed Mir, lawyer for the couple, said they were able to prove that the CBI case had no basis or legs to stand on. In an immediate reaction, Aarushi's grandfather BG Chitnis told Times Now that he always believed that Rajesh Talwar and Nupur Talwar were innocent.
In January 2014, the Talwars moved appealed to the Allahabad High Court, challenging the CBI court's conviction and sentence.
"I think if there is any way in which we can return to society, in Aarushi name, we will do it. We are really grateful to the High Court for having aquitted and ending the injustice meted out to them".
Aarushi was found dead inside her room in the Talwars' Noida residence with her throat slit in May 2008. The body of the family's domestic help, Hemraj, who was initially suspected of her murder, was found in a pool of blood on the terrace the following day.
In his order, Additional Sessions Judge Shyam Lal had cited judgements of the Supreme Court to say that the mere fact that the prosecution had failed to "translate that mental disposition of the accused into evidence does not mean that no such mental condition existed in the mind of the assailant".
CBI handed over the investigation to a new team in 2009, who suggested that the case should be closed as there were major gaps in the investigation.