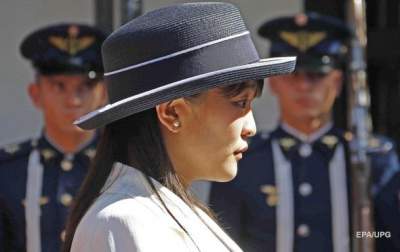 The pair met while studying at International Christian University five years ago and spent a year dating long-distance while Princess Mako studied in England and Komuro in America.
Announcing her engagement, Mako said; "First I was attracted by his bright smiles like the sun".
But the celebratory mood was soured by North Korea's sixth nuclear test the same day, with Imperial Household Agency officials and the couple's acquaintances expressing displeasure that the detonation coincided with the auspicious occasion.
Princess Mako and Kei Komuro addressed the press together for the first time on Sunday.
Princess Mako's sacrifice for love has reignited a national debate in Japan about whether women should be allowed to retain Imperial status after marriage and rise to the throne. The princess attended the University of Edinburgh, while Komuro, 25, attended the University of California.
The eldest daughter of Japanese Emperor Akihito officially confirmed her engagement in a a press conference on the Akasaka Estate in Toyko on Sunday.
'Having a family still goes beyond my imagination, but I hope to make one that is warm, comfortable and filled with smiles, ' Princess Mako said.
She also said her love is "a honest, strong-minded, hard worker, and he has a big heart". Once she relinquishes her royal status, the Imperial family to just 18 members, already including the emperor.
Asked about the proposal, Komuro said, "I said to her, "Let's get married" in December 2013".
She also knows sign language and works with the deaf community alongside her mother.
Mako is a part-time researcher at the University of Tokyo's University Museum.
The announcement was originally expected in July, but was postponed after a rain disaster hit western Japan.
He now works at a law firm and is still studying business law at the Hitotsubashi University's gradual school.
Princess Mako has since introduced him to her parents, Prince Akishino, second in line to the Chrysanthemum throne, and Princess Kiko, as someone she wished to 'share her future with'.
Princess Mako is the first of Emperor Akihito's four grandchildren who will walk down the aisle, and when she marries there will only be 13 female members left in the royal family.
Mako, 25, is the eldest daughter of Prince Akishino, Akihito's second son.