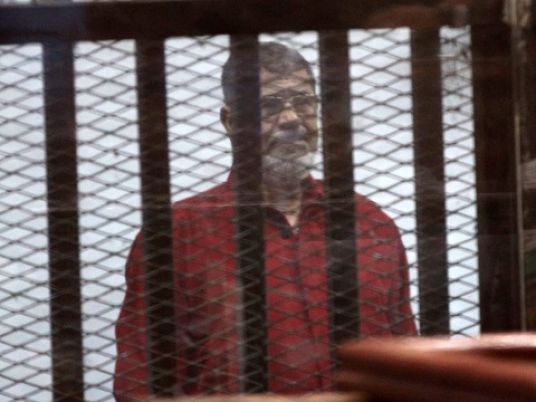 Amid the crisis between several Arab states and Qatar, an Egyptian court on Saturday sentenced former President Mohamed Morsi to 25 years in prison in the case involving leaked documents to Doha.
In November, the court had quashed one of the two life sentences handed down to Morsi and ordered a retrial in connection with the Qatar espionage case.
Morsi and ten other defendants of the lawsuit were referred to court in September 2014, accused of accumulating classified national security intelligence and delivering it to Qatari intelligence and their news network Al Jazeera, which Egyptian authorities consider to be an extension of Qatar's foreign policy.
The trial hinged on accusations that the defendants had passed on state secrets to Qatar, an ally of Morsi's Islamist government that has denounced his overthrow.
Qatar is now embroiled in a crisis with Egypt, Saudi Arabia and the United Arab Emirates which are boycotting the small Gulf emirate for its support for the Brotherhood, among other accusations.
Cairo Criminal Court sentenced Saturday seven members of what is known in the media as the "Libya terrorist cell" to death on a number of terror-related charges.
Morsi is already serving a 20-year sentence after being convicted for the killing of protesters during demonstrations in 2012.
Following Morsi's overthrow, a police crackdown killed hundreds of protesters who supported him.
Egypt has battled fighters in Sinai for years, but the rebellion became far more deadly after the 2013 military removal of Mohamed Morsi.
A veteran activist and engineering professor, Morsi emerged as a compromise candidate for the Brotherhood to field in Egypt's first democratic presidential election in 2012.
He came to power after Egypt's long-time president Hosni Mubarak was toppled in an uprising in 2011.