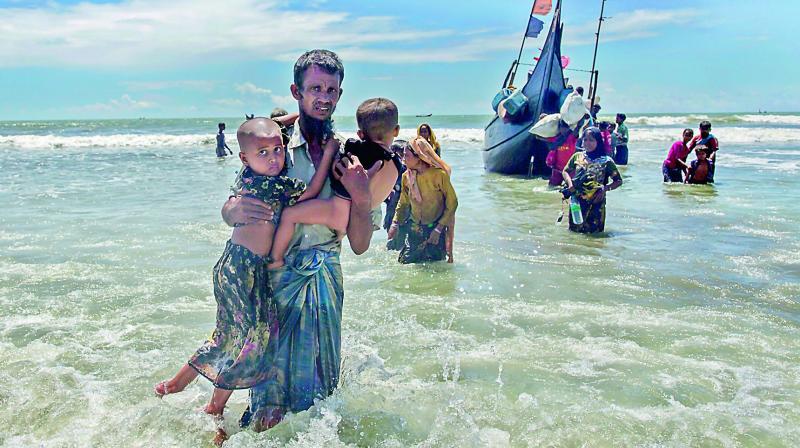 The issue came to the fore after the Union home ministry had in July said illegal immigrants such as the Rohingyas posed grave security challenges as they might be recruited by terror groups, and asked state governments to identify and deport them.
A "deeply concerned" India last week asked Myanmar to handle the situation in the Rakhine state with "maturity and restraint" while focusing on the welfare of the civilian population along with that of the security forces and asserted that it was imperative that violence ends there.
Bangladesh, which is facing a big influx of Rohingyas from Myanmar, has called on the worldwide community to intervene and put pressure on Myanmar to address the exodus. Sources said they reviewed an intelligence report that red-flagged the penetration of Pakistan-based terror outfits, including the Lashkar-e-Taiba, among Rohingyas, contending that they would eventually be used to target India. Almost 15,000 have received refugee documentation, according to the United Nations, but India wants to deport them all.
The Centre will file an affidavit in the Supreme Court on Monday on its plans to deport Rohingya Muslims, Union home minister Rajnath Singh said today.
The Indian government has described attempts to brand India as a "villain" in the Rohingya Muslims refugee crisis as "a calibrated design to tarnish India's image".
Earlier it was reported that the filed affidavit on the expulsion of Rohingyas stated that the decision to deport the Rohingyas is taken in "larger public interest and in the interest of national security".
Around 40,000 Rohingya Muslims have settled in India, and almost 16,000 of them have received refugee documentation, according to the United Nations.
The government told Parliament on August 9 that according to available data, more than 14,000 Rohingyas, registered with the UNHCR, were presently staying in India. He said that it is in the process of being finalised.
China sees the Rohingya crisis in Myanmar as an opportunity to strengthen its relations with Yangon in the face of competition from India and western countries for business contracts in the country, analysts said. Myanmar government does not recognise Rohingyas as their citizens.
Since the military crackdown began, at least 30,000 Rohingya people have been killed, while almost 400,000 forced out of their homeland and flee to Bangladesh as entire villages were burnt down, according to the UNHCR.
Protests took place in other districts of the country as well, Hefazat's Central Organising Secretary Azizul Haque Islamabadi told the Dhaka Tribune.
Mohammed Shahriar Alam, Bangladesh's junior foreign minister, said Saturday that India, Turkey, Morocco, Indonesia, Iran and Malaysia have already sent relief and the goods are waiting in an airport in nearby Chittagong.