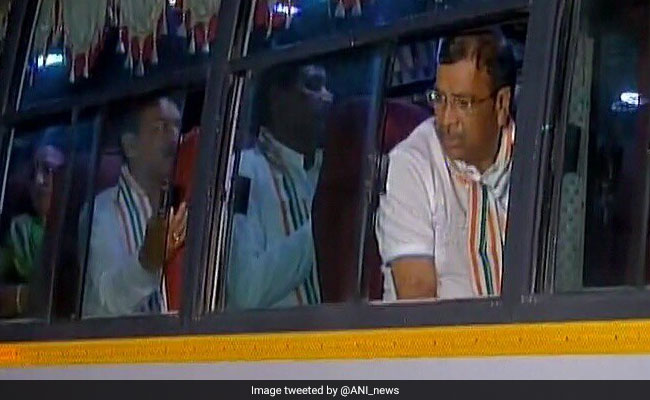 Kumar pulled out of the opposition Congress-party led United Progressive Alliance and formed a coalition government with the BJP in Bihar, following corruption allegations on his then Deputy Chief Minister, who belonged to former ally Rashtriya Janata Dal.
Earlier on Saturday, the JD (U) affirmed that there is no split in the party but added it's not hopeful of Yadav and Ali Anwar of attending the party meeting on August 19.
On Nitish's claim that the party is not recognized by Election Commission outside Bihar, Srivastava told PTI, "We will not leave the party".
The senior JD (U) leader said PM Modi had invited Chief Minister Nitish Kumar to Delhi later this month-end by when the plan would be finalised.
A delegation of party's Rajya Sabha and Lok Sabha members submitted a letter to vice president Venkaiah Naidu declaring Ramchandra Prasad Singh the party's new leader in the Rajya Sabha.
Reacting to speculation that Sharad Yadav may form his own party, Tyagi said: "How can he do this?"
He (Yadav) is free to take his decision.
"He [Sharad Yadav] has not been removed from the JD (U), only replaced with RCP Singh [as party leader in the Rajya Sabha]". "All the party MLAs and MLCs from Bihar are with us". The former JDU President, who concluded his three-day Bihar yatra to gather support for the Mahagathbandhan, brushed aside questions by asking reporters to have tea with him.
At the Patna meeting, the JD (U) will formalise a decision to join the NDA. "Sharad Yadav has been addressing RJD workers on his state tour, but not one JD (U) MLA is with him, not one JD (U) district chief with them", claimed Tyagi. "I am confident that he will handle the situation and ensure neutralising Yadav's revolt in the party without causing anymore damage to it", he added. "Sharad Yadav-led faction is the real JD-U while the other one has become a "Sarkari JD-U" and Bharatiya JD-(U)", Ansari said while briefing mediapersons.