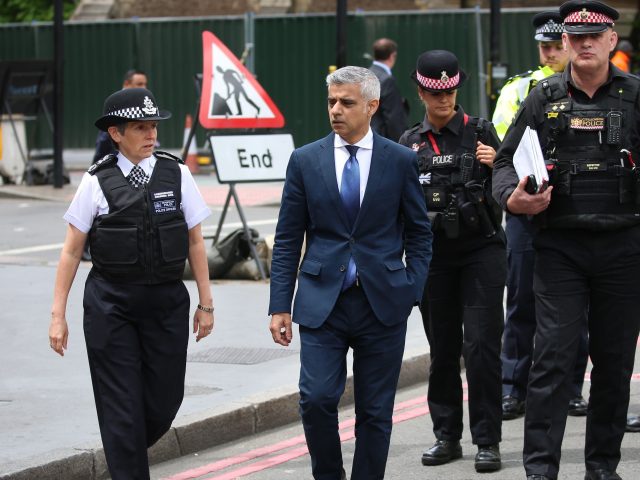 Shortly after retweeting the Drudge Report link, President Trump tried to use the terror attack as a justification for his travel ban, which has been in legal limbo seemingly since it was written earlier this year.
London Mayor Sadiq Khan has called on the United Kingdom government to cancel an upcoming state visit from US President Donald Trump, following his comments on a recent spate of terror attacks.
On Sunday, Trump mocked Khan's statement asking Londoners not to be alarmed, suggesting in a tweet that the mayor was downplaying the attacks.
Khan had said in one of his first statements in reaction to the attack that people would see an increased police presence on the streets of the capital and should not be alarmed by that. In January, Donald Trump said that he would pick his friend and supporter Woody Johnson, the owner of the New York Jets, as Ambassador to the Court of St. James.
Khan, who is London's first Muslim mayor, had criticized Trump's rhetoric toward immigrants and Muslims during the USA presidential campaign. Mainstream media - or MSM - "is working hard to sell it!" "No reason to be alarmed".
"So I'm not afraid to say when I think President Trump is getting things wrong".
President Donald Trump used the attacks in London to renew his controversial campaign for a travel ban.
The ex-LBC radio host has appeared on the Fox News channel in the wake of the attack on Saturday night, on a programme that Trump is known to watch religiously.
Others knocked Trump for the tweet, including former Rep Gabrielle Giffords, who survived a gunshot to the head at a constituent event in 2011 and has since become among the most prominent advocates for gun control legislation.
May's concession on Monday that she was "not afraid to say when President Trump gets things wrong" follows her openly complaining last month about US security agencies leaking details of the Manchester Arena suicide bombing, which British police said hurt their investigation.
Khan told the BBC Monday that Trump's comments will not "divide our communities".
"We are united in our resolve to defeat Isis, the Islamic State terrorist organisation and its ilk".
But the mayor was talking about the stepped-up police presence in the city after the attack - not about the attack itself.
His second tweet expressed no sympathy for Londoners, instead seeking to leverage the tragedy to support his "travel ban", the same executive order his lawyers have been claiming is not a "ban" at all.
At the Home Office, Mrs May oversaw cuts of 20,000 officers despite warnings from the Police Federation, which she accused of "crying wolf". "If we don't get smart it will only get worse", Trump, 70, tweeted. "And this president is trying to do something to protect the people of this country".