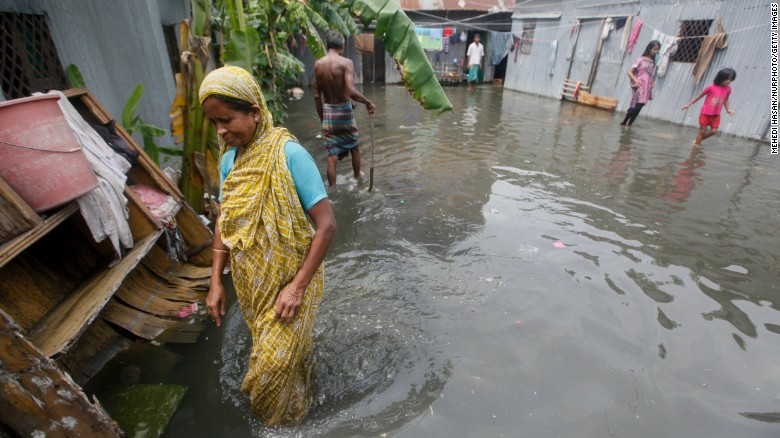 A soldier was still missing in the landslide which killed four personnel and injured ten more near the army's Manikchhari camp in Rangamati.
Officials fear the death toll could rise as rescuers find it hard to reach remote areas where telephone and transport links have been cut.
At least 30 people were killed in neighbouring Chittagong and another six in Bandarban, officials told AFP, adding about 15 people were missing, feared buried under chunks of mud.
Numerous victims were from tribal communities in the remote hill district of Rangamati, close to the Indian border, where 98 people were killed when mudslides buried their homes. "Some areas in the district are still cut off but people are being moved through navy boats", he told Reuters by telephone from Rangamati.
"We have not been able to reach numerous affected places".
The Chittagong Hill Tracts saw over 300mm of rainfalls in the 24 hours till yesterday morning.
Khodeza Begum emerged from her home just after dawn Tuesday to see the mountainside collapsing in front of her.
The disaster comes in the wake of Cyclone Mora that battered the same region barely two weeks ago, triggering flooding that left more than 50,000 homes damaged or destroyed in Cox's Bazar, Chittagong and Bandarban and affected around 3.3 million people.
However, around 10:30pm yesterday, Rangamati deputy commissioner put the district's death toll at 98.
At least 11 people were killed in the Indian states of Mizoram and Assam, which border Bangladesh, as incessant rains flooded major cities.
James Gomes, regional director of the Catholic aid agency Caritas in Chittagong, said his agency had conducted a situational assessment to offer emergency aid to affected people. The Bangladesh Army is now clearing roads and conducting rescue operations with the help of local police, fire and medical services.
The officials said the troops were called out to clear the landslide rubble from a highway linking port city of Chittagong with Rangamati.
Fire-fighters in the worst-hit district of Rangamati said they had pulled 18 bodies out from under the mud on Tuesday.
In the past two days, heavy rains have triggered a deadly spate of landslides in southeastern Bangladesh.
"Southeast Bangladesh is facing the full onslaught of the monsoon season", Azmat Ulla, head of the International Federation of Red Cross and Red Crescent Societies' Bangladesh office, said in press release.