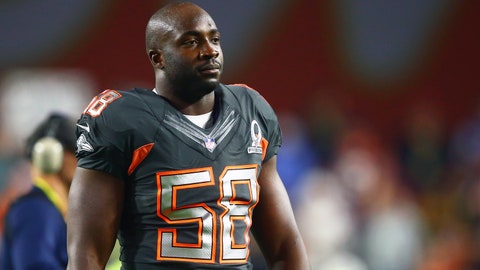 Baltimore released him in March.
It's been 11 years since Dumervil began his National Football League career as a Denver Broncos teammate of current 49ers general manager John Lynch, who announced Monday's reunion via Twitter: "Just added another stud to harass QBs". The five-time Pro Bowl (2009, 2011, 2012, 2014, 2015) pass rusher is also a two-time first-team All-Pro (2009, 2014).
UPDATE: It appears as though Dumervil's deal with the 49ers is reportedly for two years.
San Francisco 49ers general manager John Lynch announced that the team has signed pass rusher Elvis Dumervil.
The 49ers aren't exactly working with an embarrassment of riches when it comes to edge pass rushers.
As the 49ers are the ones to end his three-month free agency, they don't need him to step into the fountain of youth and find some of the form that produced 17 sacks four seasons ago.
Dumveril was limited to three sacks in eight games last season with the Baltimore Ravens. Dumervil's addition makes for an intriguing competition. Dumervil missed time while dealing with a foot injury. As an undersized pass rusher who has overachieved throughout his career as a 2006 fourth-rounder, he will set the example of a relentless work ethic for the team's young, transitioning defensive ends, Armstead and DeForest Buckner. He's seventh among active players with 99 sacks.
Dumervil is expected to fill the "Leo" role in the new defensive scheme being installed under coach Kyle Shanahan and defensive coordinator Robert Saleh.