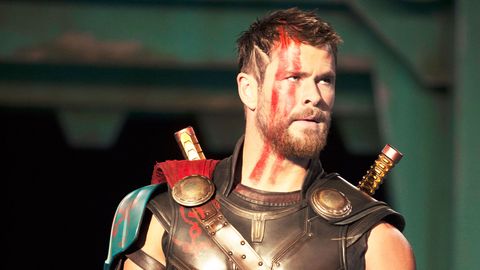 At first glance, it is admittedly pretty uncanny to see how similar Thor: Ragnarok's Hela looks compared to Power Rangers' Rita Repulsa in that picture.
Set to the classic tunes of Led Zeppelin's Immigrant Song, the trailer is action packed and gets deeper into the Thor world. He is captured and dragged away by Valkyrie (Tessa Thompson), who director Taika Waititi has described as "more of the "guy" character than the guys". Also, Chris Hemsworth sports a new look towards the end of the trailer when he enters the battlefield against the Hulk. The Teaser Trailer will probably tickle your fancy, but before we get to that, some mild analysis is coming your way! That's most likely Hel, the realm of the dead ruled by Hela, the Queen of Hel, played by Cate Blanchett, who looks absolutely evil and menacing with her jet black hair, and that elaborate headdress. After months of teasing, "Thor will be the film of all the changes", after James Gunn's tweet announcing that the trailer Thor Ragnarok was one of the best trailers of the MCU, we can FINALLY make our own opinion. She continues to wreck havoc until Asgard lays in ruin. Thor is taken to the planet Sakaar, which is ruled by the Grandmaster (Jeff Goldblum). Cate Blanchett look stunning in her dark attire and sure does seem like angry Goddess.
This has been a good week for comic book fans. Ragnarok isn't going to be a amusing film though, the first thirty seconds of the trailer showcases Mjolnir being shattered by Hera, before she declares 'Asgard is dead.' As a firestorm streaks over the planet, Thor finds himself being captured in a net by creatures that look not dissimilar to Jawas on the distant Sakaar. What we do know is that Mark Ruffalo completed his scenes for Thor: Ragnarok several months before filming wrapped.