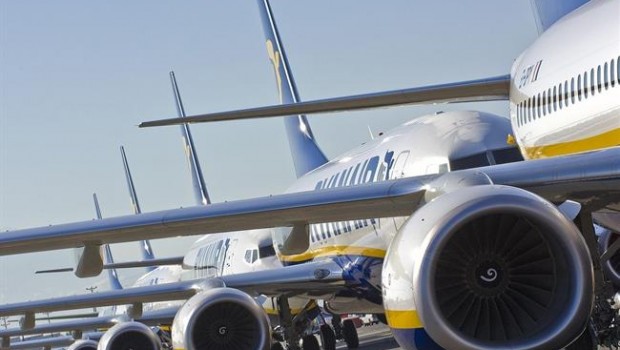 Europe's largest low-priced airline budget airline said third-quarter profit slipped 8% to €95m (£82m, $102m) in the third quarter of its year as average fares tumbled to €33 a passenger.
Despite this, passenger numbers climbed by 16 per cent to 29m, the airlines planes flew at 95 per cent capacity.
MILLIONS of British travellers are set to benefit from a price war amongst Europe's budget airlines, with Ryanair announcing a drop in fares.
However, it said it was "maintaining its full-year profit guidance in the range of 1.30bn to 1.35bn euros". With less than 2 months of the year to go, and no Easter in March, the company expects the fourth-quarter yields to decline by as much as -15%.
Speaking after it published the results on Monday, chief marketing officer Kenny Jacobs confirmed that charges were also down in the current quarter, the last before its financial year ends on March 31st. Earnings were hit also by sector-wide competition as lower fuel costs trigger cheaper fares.
The company meanwhile noted that its fuel costs fell by 20 per cent per passenger in the third quarter.
In the next financial year it said it seemed clear that "pricing will continue to be challenging and we will respond to these adverse market conditions with strong traffic growth and lower unit costs".
CEO Michael O'Leary said "our fares this winter have fallen sharply as Ryanair continues to grow traffic and load factors strongly in many European markets". "We will carry over 119 million customers in full-year 2017, and full-year ex-fuel unit costs should fall by approximately 4%". Ryanair expects uncertainty over Britain's decision to leave the European Union, instability in markets like Turkey and the pound's drop to keep depressing prices.
Ryanair reiterated that it expects to grow more slowly in the United Kingdom than it once planned following the country's June 23 vote to quit the European Union.
The airline launched 95 routes and five bases during the period in Bucharest, Hamburg, Nuremberg, Prague and Vilnius.
Ryanair reiterates its hope that "the UK remains a member of Europe's "open skies" system" post-Brexit, warning that: "While there may be opportunities to expand at certain UK airports (such as the recent extension of our growth deal at Stansted), we expect to grow at a slower pace than previously planned in the UK and will continue to switch capacity into other key markets around Europe".