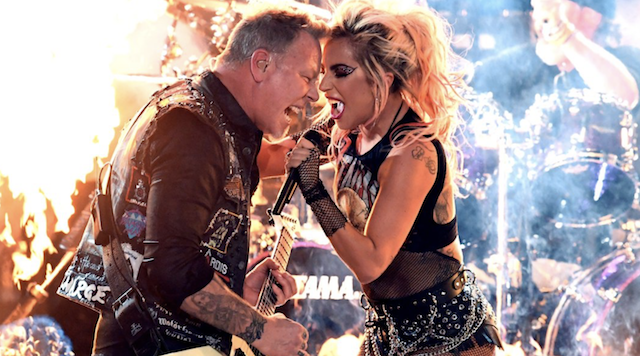 Metallica and Lady Gaga made history at the 59th annual Grammy Awards when they took the stage at the Staples Center and seriously brought the wow factor with a performance of 'Moth Into Flame'.
What Lady Gaga didn't do was (as from most past music icons and performances) create a platform in her show through repudiation or condemnation in a political satire or agenda to rant on what the left-wing extremists would have hoped she had demonstrated between songs and dance. Mainly because Gaga wore perhaps the riskiest outfit on the carpet... a cut out top that showed off her breasts, tiny leather hot trousers and super tall paten leather boots!
Ch-ch-check out their performance (above)!
Lead singer James Hetfield's microphone was apparently turned off, meaning fans could only hear Lady Gaga's lyrics for the first minute of the show.
The onstage collaboration was far from ideal, with Metallica frontman James Hetfield suffering sound issues onstage during the performance of Moth Into Flame, but bandmates Kirk Hammett, Robert Trujillo, and Lars Ulrich were more than impressed with Gaga.
Lady Gaga is always one to embrace a big moment. This time it was alongside Metallica, a seemingly odd pairing that nevertheless produced some fascinating results.
It looked like the sandman may have entered the Grammys ahead of Metallica, as the awards show was often asleep at the wheel when it came to the legendary metal band. (She and Cooper are starring in the remake of A Star Is Born together.) "I've gotta tell you something: I went to see [Metallica] live". Ahead of her performance with Metallica at the ceremony on Sunday, February 12, the Mother Monster unveiled a new ink to commemorate her duet performance.
James then stepped over to share a mic with Gaga. I mean, she was really open and willing to work with different arrangements and see what worked well over the course of the song. She too wiped away tears at the end, later telling reporters backstage that she was "devastated" that the performance hadn't gone the way it did in rehearsals and that she had been planning a tribute to Michael since the day after he died. "It's been three years since we were lucky enough to participate in the awards show when we last performed with world-renowned Chinese concert pianist Lang Lang and we're thrilled to be asked back", they wrote.