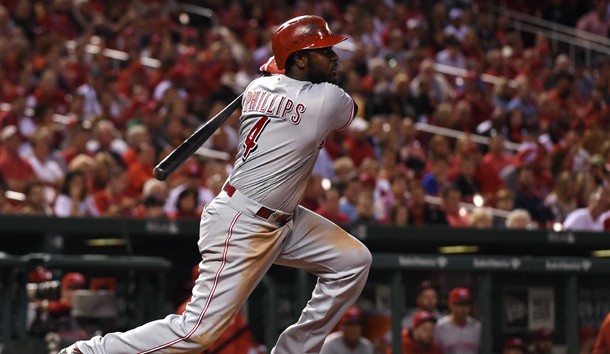 MLB Network insider Ken Rosenthal reported Saturday evening that the Braves are nearing a trade to acquire the second baseman from the Reds.
The Braves traded left-hander Andrew McKirahan and minor league right-hander Carlos Portuondo on Sunday.
Phillips is a 15 year veteran, starting his career in Cleveland before spending the last 11 seasons in Cincinnati. He is a three-time All-Star who is a career.275 hitter and has won four Gold Gloves.
It wasn't immediately known whom the Reds will receive in the trade. In 2015 he pitched in 27.1 innings and had an ERA of 5.93. McKirahan is recovering from his second Tommy John surgery, done last March. Rodriguez and his family were involved in a serious vehicle accident January 30.
Brandon Phillips appears to be packing his bags after more than a decade in Cincinnati.
Phillips is under contract for 2017 at $14 million, but Cincinnati is in rebuilding mode in one of the toughest divisions in baseball.
The Braves are getting a guy who fills an immediate need at a point in the offseason when most of the valuable players are off the board.
For Cincinnati, the move is the next step in turning over their middle infield to a pair of 23-year-olds acquired in previous trades that have been part of their rebuilding effort.
Interestingly, about a month ago Phillips vetoed a deal that would have also sent him to Atlanta.
Phillips has full no-trade rights as a player with 10 years of service time and five with the same team - and he's blocked trades in the past. At 28 years old, Portuondo made it to AAA as a reliever.