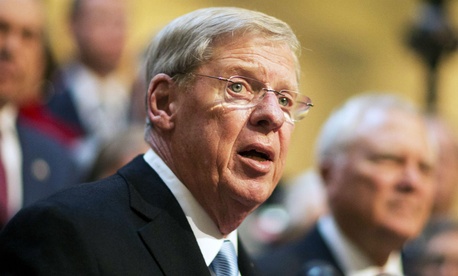 "It's hiring the right people, putting the procedures in place that ensure that our veterans - whether health care or mortgages or the other services that VA provides to those who have served our nation - get the services that they've earned".
In a letter to the president, House and Senate Veterans' Affairs Committee Chairmen Phil Roe, M.D.
The comments left some confused over whether the VA could claim some exemptions from the hiring freeze.
Robert Snyder, acting VA secretary, said later that the agency would exempt anyone deemed necessary for public safety.
And Snyder also opted to exempt some National Cemetery Administration positions "directly involved with the burial of veterans and eligible family members" in keeping with the public health and safety clauses of the presidential order.
The executive order on federal hiring freezes, issued Monday, states, in part, "I hereby order a freeze on the hiring of Federal civilian employees to be applied across the board in the executive branch".
Guidance released late Thursday by Mark Sandy, acting director of the Office of Budget and Management, said that any candidate who received a job offer and a start date on or before February 22 is considered an active government employee and "should report to work on that start date".
President Trump's recently announced temporary hiring freeze of federal workers is drawing criticism from advocacy groups, but perhaps not for the reasons you would initially think.
Veterans make up almost one third of the federal workforce. Hiring veterans was made a top priority for all agencies under a 2009 executive order signed by former President Barack Obama on the Employment of Veterans in the Federal Government.
That includes the Department of Veterans Affairs.
"We're working very hard with our veterans; we're going to do something very special with our veterans", said Trump, who argued during the campaign for allowing veterans more choice on private care.
"As you have rightfully recognized many times before, the VA healthcare system is now in a state of crisis", Isakson and Roe wrote.
In 2014, reports showed veterans were waiting too long to get care and dying before they received help in some cases.
The president's nominee to head the VA, Dr. David Shulkin, now chief executive of the Veterans Health Administration, has long advocated hiring more doctors and nurses to help reduce veterans' complaints of long wait times for appointments and to increase quality of care.
"It seems the VA is trying to work around [the freeze], at least for communities where there's real emergency" in the quality of care and the appointments backlog, Kidder said.