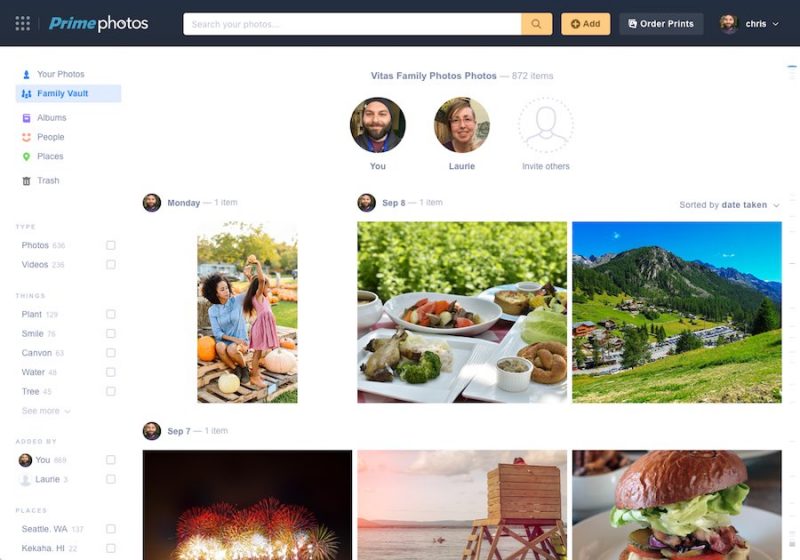 Amazon has announced another very cool benefit for Amazon Prime subscribers. You can start adding members to your Family Vault and when they've accepted, they can start accessing your photos and files through amazon.com/photos or through their mobile apps. You can also store seemingly endless photos on your computer or in the cloud, and share them easily with anyone via email, SMS messaging or other methods.
Amazon on Tuesday said Prime members in the U.S. can now invite up to five other people to use Prime Photos to store as many photos as they want, as well as share 5 gigabytes of space for videos and other files.
David Nenke, Director of Prime Photos, remarked, "Prime members love the benefit of unlimited photo storage but often struggle to collect and organize photos across multiple devices and accounts into a single, shareable archive". "We launched the Family Vault to make it easy for family members to store and share all their favorite moments safely".
Amazon's latest Prime offering solves a problem with many online photo services, which lack a way for users to pool images into a single space. Users can order for albums, cards, and regular prints with Family Vault. This is similar to what you would find inside of Google Photos. Customers can also browse photos of individual family members and friends in the People view as well as search and filter by location or date.
Amazon Prime may be based on free two-day shipping, but the expanded photo storage tools could be a big perk for members, since high resolution images can be stored uncompressed and the photos are now easier to share and search. As far as I'm concerned, Amazon Prime membership was already a no-brainer, and Prime Photos is just icing on the cake. And you can upload your photos at full resolution, which will appeal to pro photographers.