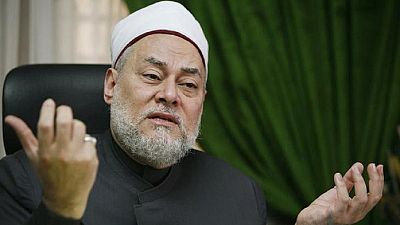 Egypt's former Grand Mufti Ali Gomaa, once one of the country's top religious authorities, survived an assassination attempt on Friday, security sources told state Middle East News Agency.
Two unidentified gunmen fired shots at the 64-year-old cleric outside a major mosque on the outskirts of Cairo where he was to give the sermon for Friday prayers, the report added.
He served as the 18th Grand Mufti of Egypt for ten years from 2003 to 2013.
The pro-Morsi protests were then known by the Rabaa al-Adawiya demonstrations, given that they took place at Cairo's Rabaa al-Adawiya Square.
After the shooting, Gomaa conducted the prayers as planned "as a message to these people", the cleric said in a telephone interview.
Later, Al-Azhar Al-Sharif condemned the failed assassination attempt, and Al-Azhar Grand Imam held a call with Shaikh Ali Gomaa and got re-assured about his safety.
Mufti Gomaa is considered one of the fierce religious figures standing against the terror group.
"This attempt is a message aimed at creating fear", he said. "This proves you are on the right path", Gomaa said.
Gomaa served as the country's grand mufti, the authority responsible for giving Islamic edicts, for nearly a decade until 2013.
Gomaa, an outspoken critic of the Islamist opposition, has also suggested that the now-banned Muslim Brotherhood group are non-Muslims and said the country's police and army should carry arms against them.
He is a member of the council of senior scholars in the Al-Azhar institute, the top body in Sunni Islam's most prestigious center of learning, and has hosted a religious affairs program on television.